Do I oil weathered teak
by Ben
(Ireland)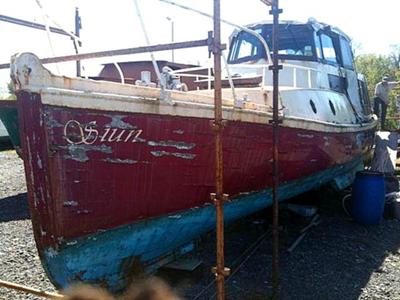 Hi all

We are just about to start the restoration of our 40ft 1922 British Admiralty built Burmese teak on oak boat.

She has been out of the water for about three years and some of the timber has been weathered where paint has flaked off above the water line.

We may also soda blast the hull inside and out to see the condition of the hull, replace and repair any sheared ribs, re-caulk where necessary then fair with epoxy and ally prime.

Before we ally prime is it beneficial to oil the planking, if so what do we use?

We were told that teak loses its oil through evaporation when exposed to air.

Also do we ally prime and gloss under the waterline then anti foul or just ally prime then anti foul?



While the original system worked quite well as a one-off post, it didn't allow for updating or posting new photographs etc.
That is why I have introduced the new Your Pages.
This is new 'Community' platform is for 2018.
It is designed to put you in control of your content, make it easier to for you to tell us about your Wooden Boat, upload photos etc. and most of all post updates as and when you wish to.
There is also a forum where you can ask any questions you may have about Wooden Boats and join in the conversations.
So, please come on over and join our community of likeminded Wooden Boaters.