Custom built 42' two-story cedar shingled wooden hulled houseboat
by Susan Hurley
(East Lyme, CT)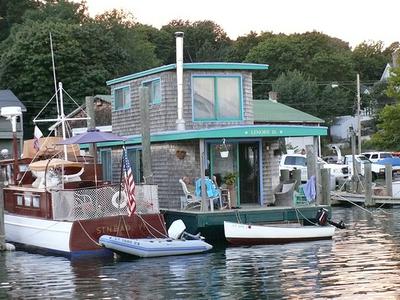 Lenore D. has now been spoken for!

She will be going to Newport RI.
---
42' X 14' double decked, cedar shingled wooden houseboat located in Mystic, CT.
Double planked cedar over yellow pine.
Oak and fir framing, oak keel.
12 volt wiring, 110 volt, 10, 12, 14 gauge.
Water heater, refrigeration, diesel furnace, 120 gallon rubber fuel tank, 2 fresh water tanks (180 gallon capacity), galley, head with shower.
This boat was built in 1981 by Jeff Hall, a well known and respected marine carpenter.
Although the "Lenore D." has fallen upon hard times, know ye this:
Noble kings and princes would bow whene'er they came!
Pirate ships would lower their flags when sailing by this dame.
Sadly, while dragons may live forever, life happens to the rest of us, and this once fine, two-story floating cottage (which can provide cozy and safe year round shelter) has been neglected.
But her hull is still in good shape and she's not beyond repair.
You would need to either tow her away, or make arrangements with the marina to keep her there.
There are several marinas nearby that can haul her for repairs.
She weighs 20 tons and needs three straps on the travel lift.
If you are handy, have the time and resources, she can be yours for free, and perhaps a song if you're game.
More information and pictures available for serious inquires.
Please, no tire kickers!
Contact info: shurley03@att.net