Colin Archer for Sale: 120.000 Euro

(Denmark)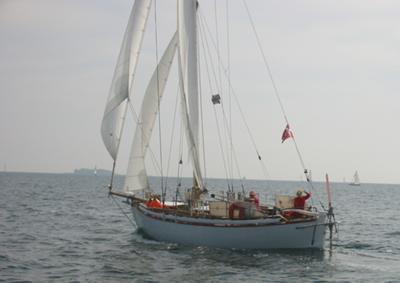 This is a unique Colin Archer type wooden yacht launched in 1978.

She is bermuda-rigged, 10 x 3,5 x 2 m.

A very good sailer, also in light winds, and built and equipped for blue water sailing.

Meticulously maintained by the present owners over 22 years.

She was build of larch planking on laminated oak frames.

Deck, and superstructures are of iroko.

Mast and spars are made of thuja.

Interior in larch, oak and iroko.

Total-weight 10 tons with 3 tons in the iron keel.

Four berths, two in the front cabin and two in the aft cabin

Motor: 48 hp Volvo MD22L from 1996.

Sails: Euro Sails from 2006 (+ older set storm sails, light genua )

New stainless steel rigging from 1998

250 L in fuel tanks

300 L in freshwater tanks

Equipment

Topp-Reff furling on jib

Aries Vindvane, renovated in 1997

45 Lb CQR anchor, 35 kg stock anchor, 15 kg Danforth type anchor

4 pers. Viking UK life-raft

4 pers. Avon rubber dinghy

VHF, GPS, Echosounder, og radio
Sextant og Walker log

Price 120.000 Euro

www.colin-archer.dk


Return to The Boats and Bits Exchange.
Want to add more photos?
Recent Articles
Jun 09, 19 03:31 AM

Vintage and retro wood-hull boats sat elegantly in Newport Harbor's calm water Saturday for the sixth annual Newport Beach Wooden Boat Festival at Balboa Yacht Club.

See more by Susan Hoffman at the L…

Jun 08, 19 06:39 PM

I just picked up this little laser sailboat. I had no idea it was solid wood when I saw it on Offer Up. I was ecstatic when I realized this. It's

Jun 08, 19 06:23 PM

Hello Kate, Congratulations on your serendipitous discovery of the Laser Woody.