Clinker Fishing Boat Fully Restored and Working
by Darren Fish
({Portsmouth UK)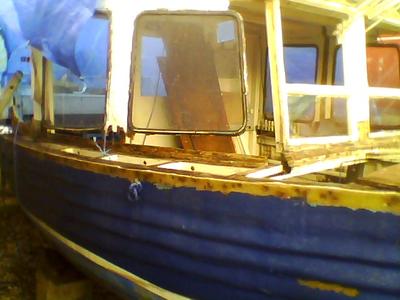 in the begining
Clinker fishing boat 25ft approx., 100 years old fully restored and working.

Good old wooden boat with straight stem front and clipper stern.

Weight is 3 tones, 14" 3 blade prop.

I bought this boat last year from a local boat yard, where it had been abandoned by her previous owners,

The boat had sat for about ten years in the yard , the engine was gone and the boat was in a poor state.

All the cabin sides and deck were rotten and needed replacing, also the inner gunnels and deck supports were rotten and were replaced with new wood.

Then the whole topsides and roof were sheathed in two coats of grp resin and matt to give strength.

We fitted a second hand Perkins 4107 bought off eBay and fitted new controls and steering.

Painted the hull and fixed a few drain holes.

Antifouled her then she went in the water (and floated :-))

We now are replacing the head gasket and servicing her.

Fully rewired the whole boat, fitted a mast and rod holder also lights and aerials.

We have been fishing in her lots of times in Hampshire UK

Well worth all the hard work.

I love it lol.