Building a Transom Mount for a 90-115 hp motor
by R-E-D-E-2
(Michigan)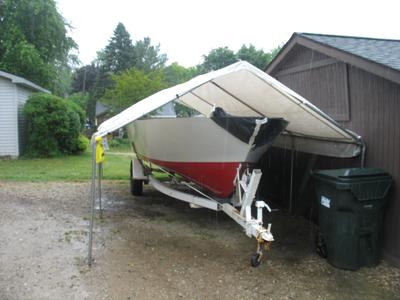 I am in the process of building a Ken Hankingson 20'Vee Gull.

I have completed the hull construction but am looking to make some modification.

The plans were built to use an inboard with outdrive.

I am looking to free up some additional space on the deck and would like to build a floatable transom mount similar to any of the following. http://www.armstrongnautical.com/Brackets.htm
http://www.stainlessmarine.com/home.html
http://www.gilmarine.com/products/gbracket/brackets.html
http://www.hermco.net/seamark_bracket.htm
http://www.seamount-mattson.com/
http://www.dadmarine.com/index00.htm

The expense of these is very high and I am looking to reduce this so I can purchase a nice outboard.

Any help or information would be appreciated.

I will try to include some pictures on the next post, I have them on another computer.

You can find all the information on the boat on the Glen L web site www.glen-l.com/ under Ken Hankingson.


Join in and write your own page! It's easy to do. How? Simply click here to return to Your Questions and Answers.
Want to add more photos?
Recent Articles
Jun 09, 19 03:31 AM

Vintage and retro wood-hull boats sat elegantly in Newport Harbor's calm water Saturday for the sixth annual Newport Beach Wooden Boat Festival at Balboa Yacht Club.

See more by Susan Hoffman at the L…

Jun 08, 19 06:39 PM

I just picked up this little laser sailboat. I had no idea it was solid wood when I saw it on Offer Up. I was ecstatic when I realized this. It's

Jun 08, 19 06:23 PM

Hello Kate, Congratulations on your serendipitous discovery of the Laser Woody.