Building a Transom Mount for a 90-115 hp motor
by R-E-D-E-2
(Michigan)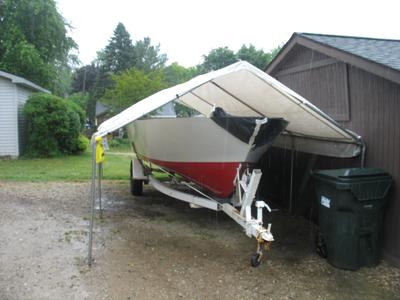 I am in the process of building a Ken Hankingson 20'Vee Gull.

I have completed the hull construction but am looking to make some modification.

The plans were built to use an inboard with outdrive.

I am looking to free up some additional space on the deck and would like to build a floatable transom mount similar to any of the following. http://www.armstrongnautical.com/Brackets.htm
http://www.stainlessmarine.com/home.html
http://www.gilmarine.com/products/gbracket/brackets.html
http://www.hermco.net/seamark_bracket.htm
http://www.seamount-mattson.com/
http://www.dadmarine.com/index00.htm

The expense of these is very high and I am looking to reduce this so I can purchase a nice outboard.

Any help or information would be appreciated.

I will try to include some pictures on the next post, I have them on another computer.

You can find all the information on the boat on the Glen L web site www.glen-l.com/ under Ken Hankingson.


Return to Your Questions and Answers.
While the original system worked quite well as a one-off post, it didn't allow for updating or posting new photographs etc.
That is why I have introduced the new Your Pages.
This is new 'Community' platform is for 2018.
It is designed to put you in control of your content, make it easier to for you to tell us about your Wooden Boat, upload photos etc. and most of all post updates as and when you wish to.
There is also a forum where you can ask any questions you may have about Wooden Boats and join in the conversations.
So, please come on over and join our community of likeminded Wooden Boaters.