Brand New HUON PINE Sailing Dinghy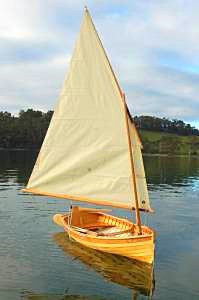 You are looking at a superb opportunity of a brand new sailing dinghy.

Everything is new, boat, new sails, new trailer, new oars.

This has been built in Tasmania by Andrew Denman,I won her and she is far too good for my requirements and need to sell her quickly.

DECENT OFFERS CONSIDERED PHONE 0403 611 242. or txt

Andrew told me to insure her for $24,000 replacement value.

I am sure you will agree she is a superb example of craftsmanship.

There is $6000 of materials and some 400 hours of build time. She is immaculate.

BUT WILLING TO ACCEPT DECENT OFFERS to MAKE A QUICK SALE.

Transport will beta your cost but this can be organised this end without hassles.


Description:

This is a magnificent example of brand new Huon Pine Dinghy built to the very highest traditional wooden boat building standards by Denman Marine here at Kettering in Southern Tasmania.

She is of clinker construction huon pine planking with contrasting king billy sheer strake on celery top pine backbone and ribs.

All planking is book-matched..

The transom and stem are also huon pine.

Quarter knees, thwart knees and and breast-hook are from grown huon pine crooks(book-matched).

All fastenings are copper and bronze with bronze rowlocks and rudder gear.

Fully balanced lug sailing rig including mast, yard, boom, centreboard, rudder and sail (classic cream colour).

Bottom boards are swamp gum and thwarts of king billy pine.

The interior is painted below the riser and varnished above.

The exterior is fully varnished with brass half oval protection on the keel, stem and bilge runners.

The inventory includes hand made custom oars, sail, running rigging, new dunbier galvanised trailer with stone guard protection and spar/oar rack.

The builders website link is;
http://www. Denmanmarine. Com. Au/

The designers website link is;
http://www. Gartsideboats. Com/

A video of the sistership to this dinghy on the water sailing can be seen at this website link;
http://www. Youtube. Com/watch?v=2dPX5Ee9EWw

Location: Parkdale, Victoria.
Country: Australia.
Reference:
Year: 2009
Designer: Paul Gartside - Nova Scotia Canada.
Builder: Denman Marine Pty Ltd - Kettering Tasmania.
Length: 3.0m - 10'
Beam: 4ft 2in - 1.26m.
Keel / Ballast: Timber Centreboard.
Hull Material: Huon Pine Planking, King Billy & Celery Top Pine.
Outboard: No.