ALDAN (the wave). Restoring a Faroese fishing boat.
by Eliesar Jakobsen
(Faroe Islands (Skopun))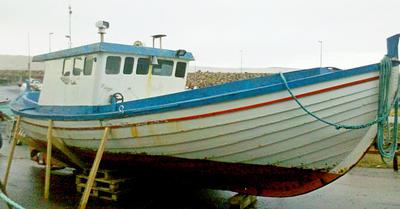 I am restoring a Faroese fishing boat, which I got from my brother.

The boat name is (ALDAN) in English it means the wave.

The boat dimensions.
L. 29 feet. B. 9 feet. D. 5 feet

The boat was built in 1985

The engine is a Volvo Penta, with 110 HP.

I am going to build a bigger wheel house, so I can take the family on the Regatta trips, that are held here in the Faroe Islands each year.

It is going to take me about one and a half years to restore the boat, because I am not at home all the time, because I am out to sea big time of the year, with the coast guard.


While the original system worked quite well as a one-off post, it didn't allow for updating or posting new photographs etc.
That is why I have introduced the new Your Pages.
This is new 'Community' platform is for 2018.
It is designed to put you in control of your content, make it easier to for you to tell us about your Wooden Boat, upload photos etc. and most of all post updates as and when you wish to.
There is also a forum where you can ask any questions you may have about Wooden Boats and join in the conversations.
So, please come on over and join our community of likeminded Wooden Boaters.