ALDAN (the wave). Restoring a Faroese fishing boat.
by Eliesar Jakobsen
(Faroe Islands (Skopun))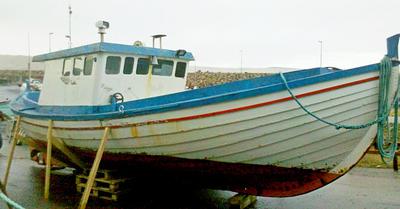 I am restoring a Faroese fishing boat, which I got from my brother.

The boat name is (ALDAN) in English it means the wave.

The boat dimensions.
L. 29 feet. B. 9 feet. D. 5 feet

The boat was built in 1985

The engine is a Volvo Penta, with 110 HP.

I am going to build a bigger wheel house, so I can take the family on the Regatta trips, that are held here in the Faroe Islands each year.

It is going to take me about one and a half years to restore the boat, because I am not at home all the time, because I am out to sea big time of the year, with the coast guard.