ALDAN (the wave). Restoring a Faroese fishing boat.
by Eliesar Jakobsen
(Faroe Islands (Skopun))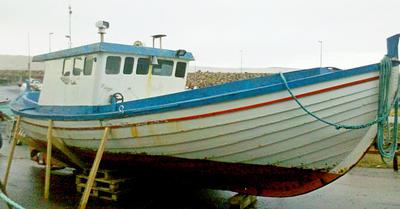 I am restoring a Faroese fishing boat, which I got from my brother.

The boat name is (ALDAN) in English it means the wave.

The boat dimensions.
L. 29 feet. B. 9 feet. D. 5 feet

The boat was built in 1985

The engine is a Volvo Penta, with 110 HP.

I am going to build a bigger wheel house, so I can take the family on the Regatta trips, that are held here in the Faroe Islands each year.

It is going to take me about one and a half years to restore the boat, because I am not at home all the time, because I am out to sea big time of the year, with the coast guard.


If you wish to add more photos (or videos) to your post or if you have any problems loading photos use the link below (there is no need to resize or adjust your photos).
But please use the 'Description Box' to indicate to which post the photos belong.
Click Here to securely send your photos,