"Adria", Scandinavian design South Australian Cray Boat
by Chris Hallam
(Sorrento Victoria, Australia)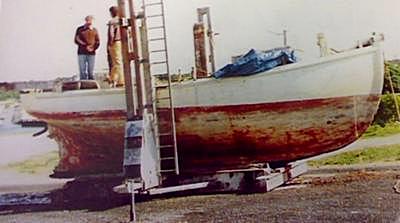 Adria was built in 1956 by Axyl Stenross.

Axyl was born in Finland and was shipwright on the last of the sail powered grain traders of South Australia.

He settled in Port Lincoln.

He insisted on building boats the way he learnt in Finland, so grown timbers were used for stem, stern and knees etc, ribbs go in pairs, alternating port and starboard, from top to 2/3 up the other side.

The Keel is full length jarrah and one piece from inside hull to bottom of the keel.

Last year, I purchased Adria as a hull having been stored in a shed for 25 years.

Adria Victoria.

Construction is West Australian Jarra planking, with Oregon (Douglass fir) deck.

She is canoe stern having had a motor and with a Gaff rig Cutter sail plan.

Being a cray boat she had a wet well midships that is now removed and plugged.

Jobs to be done include; five new planks below waterline, about one third of the ribs need replacing, new keelson fitted as old one finished at wet well, the new one will go to engine beds, new floors, new deck beams, new deck planking, low cabin and rebuild cockpit.

I have already got some good thick slabs of New Zealand Kauri for the cabin and some recycled close grain oregon for the deck.