7'2" Yacht Tender Ian Oughtred Design
by Bob Hayward
(Waterville, Ohio)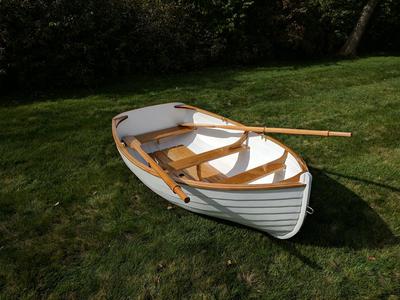 This classy little Auklette yacht tender is newly built and designed by Ian Oughtred.

The hull is Okkume mahogany and the rest is ash and sassafras.

West System is used throughout.

There are 4 coats of sealer, 2 coats primer, and 5 coats of paint/varnish.

This little gem weighs in a 68 pounds and will make fine yacht tender for the discerning boatman.

Hand crafted oars included.

More photos available upon request. $2,950.00.

Join in and write your own page! It's easy to do. How? Simply click here to return to Boats and Bits Exchange.
If you wish to add more photos (or videos) to your post or if you have any problems loading photos use the link below (there is no need to resize or adjust your photos).
But please use the 'Description Box' to indicate to which post the photos belong.
Click Here to securely send your photos,