7'2" Yacht Tender Ian Oughtred Design
by Bob Hayward
(Waterville, Ohio)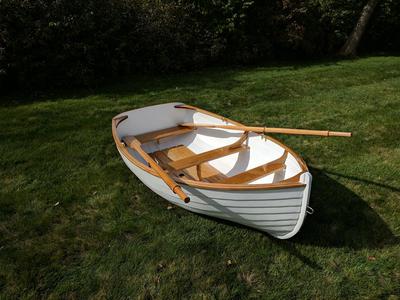 For Sale
This classy little Auklette yacht tender is newly built and designed by Ian Oughtred.
The hull is Okkume mahogany and the rest is ash and sassafras.
West System is used throughout.
There are 4 coats of sealer, 2 coats primer, and 5 coats of paint/varnish.
This little gem weighs in a 68 pounds and will make fine yacht tender for the discerning boatman.
Hand crafted oars included.
More photos available upon request. $2,950.00.
Photo Uploader

If you are having problems uploading Photos or would like to add more click on this link for the Upload Form.
You can upload as many as you like and there is no need to resize them.