60' Custom Ketch
by Lizane Heine
(British Virgin Islands)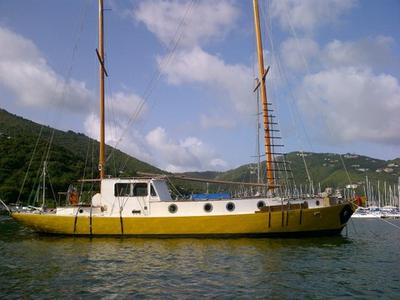 "Tamoure" is a 60' Custom ketch built by Palomba in Italy in 1971.
Her beam is 14' and her draft 6'.

"Tamoure" is a project boat, due to unforeseen circumstances she has to be sold even though the project is incomplete.

This boat needs the right owner to finish the job.

Hundreds of hours and thousands of dollars have already been dedicated to the rebuild project between December 2010 and March 2012.

Her hull has been rebuilt using Epoxy carvel construction.

The frame, garbords and broads are oak and deadwood, and the hull pine.

It is fastened with hot dip galvinised 4 inch lagbolts, fiberglassed over with 10/24 Biax.
We used Epiglass Epoxy.

She has a Volvo MD72B 24V engine with a new starter motor.


A new Acdello,24 V, 70Amp alternator and new exhaust hose.


4, 4D Deka lead acid deep cycle marine batteries.


2, Kyocera 130 Watt solar panels with 30 Amp charge controller.


A Victron 24V to 12V converter, 30 Amp


A Force 10 4 burner stove


A Mabe, energy efficient fridge/freezer 110V that uses 1 Amp AC,
(9 cubic foot)


Hydraulic steering


New bronze skin fittings


Very good condition heavy duty awnings (2), main and forward.


Good condition mainsail.


Excellent condition mizzen sail.


Good condition mizzen stay sail.


Good condition mainmast stay sail.


Good condition furling genoa.


Reckmann Furler is on board for genoa, but needs foils.


Masts are in excellent condition and is newly refinished.


Mizzen boom is in good condition but the boat need a new
main boom.


Bowsprit is in good condition.


Approx 150 Gallons of fuel in stainless steel tanks


80 gallons of water in plastic tanks


Lofrans Falcon 2500 Watt, 24V windlass, works like new, controlled form pilothouse.


2, 110lb Bruce/Lewmar anchors


1, 65lb high tensile Danforth


Main anchor on 200ft of 12 ml chain


2nd Bruce on chain and line


Danforth on chain and line


New bilge pumps.
The new owner will have to:
The interior is temporary plywood and will need rebuilding. (though this gives the new owner the opportunity to design the interior the way he wants it)
The masts are stepped but the rig needs to be secured.
The bowsprit and boom is on board but needs to be fitted ( was removed for hurricane season)
The pilothouse needs some repairs and the pilothouse windows needs installation.
The hatches are temporary wooden ones and will need work.
Essentially the hull is rebuilt and the masts re-done.
The engine, transmission, batteries, charging, windlass, anchor and tackle, fridge and stove are all in good working order.
The boat is located in the British Virgin Islands.
She is imported and duty payed.
She is for sale for 35 000 USD
contact Lizane at tamoure4sale(at)gmail.com
serious inquiries only please