43' Ketch - Iron sick hull. Too far gone?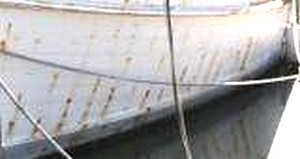 This is a 1943 Ketch.

At a minimum, she will need to be 75% refastened (yellow Pine on steam bent oak frames), some planks, (or many), new transom, side deck beams, decking, etc.
***C2Add.shtml***
She has been a lived aboard for the last 10 years.

What's the worse case here... $100k?

It belonged to my Dad 40 years ago and I'd like to bring her back if possible.

I know I know... bad idea, but I love this boat.

Thanks.


If you wish to add more photos (or videos) to your post or if you have any problems loading photos use the link below (there is no need to resize or adjust your photos).
But please use the 'Description Box' to indicate to which post the photos belong.
Click Here to securely send your photos,