2003 Glenn L Design, 23′ Tahoe (Mahogany Runabout Riva Replica)
by Hoyt Fleming
(Boise, ID, USA)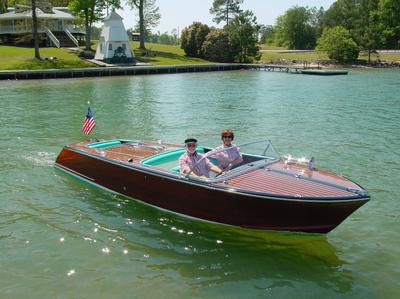 This boat is a real head turner.

As a beautiful mahogany runabout, it always gathers lots of attention.

The boat was built by my dad. Hence the name t"Dad's Boat".

My dad took the boat to many boat shows and won lots of trophies.

The boat is in excellent condition. With a refinish, the boat could be in show condition again.

The boat's engine is a Chevy V-8 Crusader (260HP).

The engine starts easily and runs well.

One unique feature of the boat is an extra fuel tank in the bow.
Thus, long trips can be taken in the boat.

Another unique feature is its chrome air horns.
Let's just say that they are really loud.

Additional very high resolution photos and 2 walk-around movies can be downloaded at: Photo-Movie Link

The custom trailer shown in the above photos is included.

A full cover is also included. (See photo number 31 in the above link for a photograph of the cover.

The boat is currently in McCall, Idaho, which is a little over an hour north of Boise.



While the original system worked quite well as a one-off post, it didn't allow for updating or posting new photographs etc.
That is why I have introduced the new Your Pages.
This is new 'Community' platform is for 2018.
It is designed to put you in control of your content, make it easier to for you to tell us about your Wooden Boat, upload photos etc. and most of all post updates as and when you wish to.
There is also a forum where you can ask any questions you may have about Wooden Boats and join in the conversations.
So, please come on over and join our community of likeminded Wooden Boaters.