1989 Sea Ray Bowrider boat 135 horsepower Mercury outboard motor
by Fallon
(Fort Lauderdale, Fl)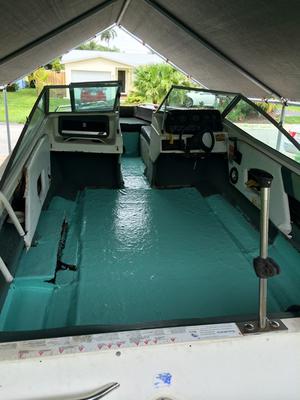 I have restored this boat from a the bottom up, including trailer, hull and motor.

The single problem I have with this boat is the motor will not run.

I will be willing to sell this boat for less than the amount of money I put into it.

Total cost on this boat for me was approximately $3600.

Not many more things can be done to fix this boat, however I am not willing to spend any more money on it since I will only be digging myself a deeper hole.

I know this boat can run, because I had her running for a few months and then she died again.

Any engine-knowledgeable human can probably figure out the problem in no time.

I'm looking to get around $2000 for her.

The few times I had with her out on the water were wonderful - but one mans junk is only another mans treasure.

I have many more pictures and more detailed information about the hull restoration and motor rebuild that I will discuss with serious buyers.


Return to The Boats and Bits Exchange.
While the original system worked quite well as a one-off post, it didn't allow for updating or posting new photographs etc.
That is why I have introduced the new Your Pages.
This is new 'Community' platform is for 2018.
It is designed to put you in control of your content, make it easier to for you to tell us about your Wooden Boat, upload photos etc. and most of all post updates as and when you wish to.
There is also a forum where you can ask any questions you may have about Wooden Boats and join in the conversations.
So, please come on over and join our community of likeminded Wooden Boaters.