1989 Sea Ray Bowrider boat 135 horsepower Mercury outboard motor
by Fallon
(Fort Lauderdale, Fl)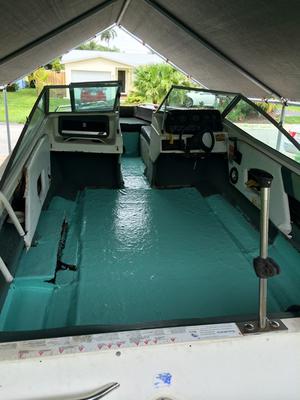 I have restored this boat from a the bottom up, including trailer, hull and motor.

The single problem I have with this boat is the motor will not run.

I will be willing to sell this boat for less than the amount of money I put into it.

Total cost on this boat for me was approximately $3600.

Not many more things can be done to fix this boat, however I am not willing to spend any more money on it since I will only be digging myself a deeper hole.

I know this boat can run, because I had her running for a few months and then she died again.

Any engine-knowledgeable human can probably figure out the problem in no time.

I'm looking to get around $2000 for her.

The few times I had with her out on the water were wonderful - but one mans junk is only another mans treasure.

I have many more pictures and more detailed information about the hull restoration and motor rebuild that I will discuss with serious buyers.


Return to The Boats and Bits Exchange.
Want to add more photos?
Recent Articles
Jun 09, 19 03:31 AM

Vintage and retro wood-hull boats sat elegantly in Newport Harbor's calm water Saturday for the sixth annual Newport Beach Wooden Boat Festival at Balboa Yacht Club.

See more by Susan Hoffman at the L…

Jun 08, 19 06:39 PM

I just picked up this little laser sailboat. I had no idea it was solid wood when I saw it on Offer Up. I was ecstatic when I realized this. It's

Jun 08, 19 06:23 PM

Hello Kate, Congratulations on your serendipitous discovery of the Laser Woody.