1984 South Jersey Beach Skiff
by Steve
(Merritt Island , Florida)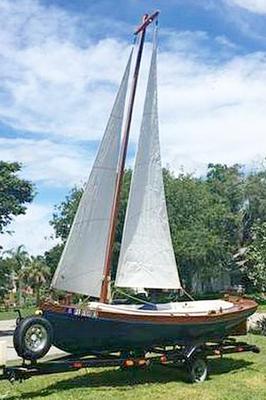 Jersey Beach Skiff made from Florida BAld Cyprus 16.5 foot centerboard.

Boat has been refinished ,painted and varnished.

Mast has been stripped and varnished.

Complete with roller furling both on main and jib for ease of handling and sailing.

Includes a barely used Suzuki 6HP motor.

Boat comes complete with all hardware and rigging.

Two rudders, two tillers, boat hooks, handmade oars, boat cover and much more.

Trailer has been refinished including new boards, new lights, new tires and new spare.

Call or text (850) 766-9330 or email shall.07@aol.com.

Boat is located Merritt Island, Florida.

Return to Boats and Bits Exchange.
While the original system worked quite well as a one-off post, it didn't allow for updating or posting new photographs etc.
That is why I have introduced the new Your Pages.
This is new 'Community' platform is for 2018.
It is designed to put you in control of your content, make it easier to for you to tell us about your Wooden Boat, upload photos etc. and most of all post updates as and when you wish to.
There is also a forum where you can ask any questions you may have about Wooden Boats and join in the conversations.
So, please come on over and join our community of likeminded Wooden Boaters.