1984 South Jersey Beach Skiff
by Steve
(Merritt Island , Florida)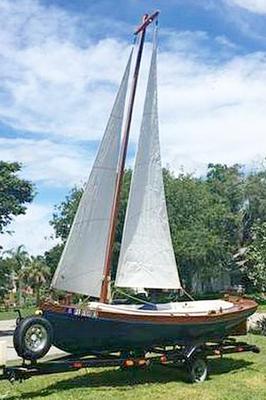 Jersey Beach Skiff made from Florida BAld Cyprus 16.5 foot centerboard.

Boat has been refinished ,painted and varnished.

Mast has been stripped and varnished.

Complete with roller furling both on main and jib for ease of handling and sailing.

Includes a barely used Suzuki 6HP motor.

Boat comes complete with all hardware and rigging.

Two rudders, two tillers, boat hooks, handmade oars, boat cover and much more.

Trailer has been refinished including new boards, new lights, new tires and new spare.

Call or text (850) 766-9330 or email shall.07@aol.com.

Boat is located Merritt Island, Florida.

Return to Boats and Bits Exchange.
Want to add more photos?
Recent Articles
Jun 09, 19 03:31 AM

Vintage and retro wood-hull boats sat elegantly in Newport Harbor's calm water Saturday for the sixth annual Newport Beach Wooden Boat Festival at Balboa Yacht Club.

See more by Susan Hoffman at the L…

Jun 08, 19 06:39 PM

I just picked up this little laser sailboat. I had no idea it was solid wood when I saw it on Offer Up. I was ecstatic when I realized this. It's

Jun 08, 19 06:23 PM

Hello Kate, Congratulations on your serendipitous discovery of the Laser Woody.