1965 King's Cruiser 28 restoration
by Peter Papageorgiou
(Corfu, Greece)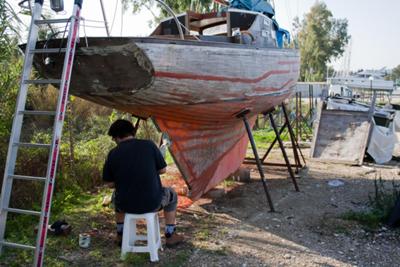 The first boat I ever really wanted was a Folkboat.

And that was 20 yrs ago!

So when this King's Cruiser 28 came up, designed by the same designer as more of a family boat, well I just had to have her...

A local chippie, one of the best actually, and a good friend too recommended I go ahead and buy her.

She has been out of the water for 4 yrs now, but is still in great condition, a tribute to the skill of those who made her.

I am in the process of scraping all paint of in order to make sure everything is intact underneath.

There are some rotten bits but nothing major.

I look forward to getting her sorted throughout the winter ready for a spring launch.

The boat has had two previous owners and was well looked after.

She lies in Corfu, Greece.