1965 King's Cruiser 28 restoration
by Peter Papageorgiou
(Corfu, Greece)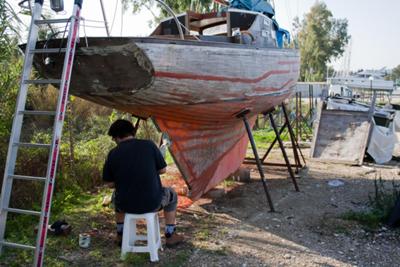 The first boat I ever really wanted was a Folkboat.

And that was 20 yrs ago!

So when this King's Cruiser 28 came up, designed by the same designer as more of a family boat, well I just had to have her...

A local chippie, one of the best actually, and a good friend too recommended I go ahead and buy her.

She has been out of the water for 4 yrs now, but is still in great condition, a tribute to the skill of those who made her.

I am in the process of scraping all paint of in order to make sure everything is intact underneath.

There are some rotten bits but nothing major.

I look forward to getting her sorted throughout the winter ready for a spring launch.

The boat has had two previous owners and was well looked after.

She lies in Corfu, Greece.


While the original system worked quite well as a one-off post, it didn't allow for updating or posting new photographs etc.
That is why I have introduced the new Your Pages.
This is new 'Community' platform is for 2018.
It is designed to put you in control of your content, make it easier to for you to tell us about your Wooden Boat, upload photos etc. and most of all post updates as and when you wish to.
There is also a forum where you can ask any questions you may have about Wooden Boats and join in the conversations.
So, please come on over and join our community of likeminded Wooden Boaters.