1965 38' flybridge cruiser - Tiki
by Luke
(Hobart, Tasmania, Australia)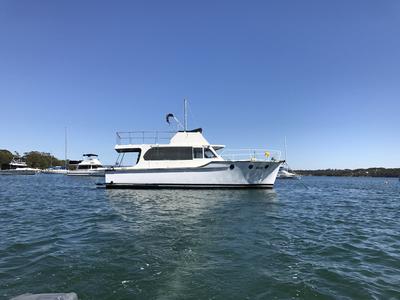 I bought this old boat from Lake Macquarie in Sydney (Australia) with the intention of sailing it back to Hobart, which is around 500-600Nm, but ended up getting it trucked down after I took it a day down the coast and discovered I was very seasick...

It didn't seem to mind doing a day in 2-3 metre swell and motored through a storm two days later (we've had some wild weather in Sydney recently).

It was made by a Sydney boatbuilder Wal Shirt with a splined hull.

It has a V berth cabin, a couple of bunks on the starboard side, a bathroom on the port side and a 6.354 Perkins diesel.

It has a lot of soft spots in the foredeck, saloon, flybridge and gunnels.

I've also discovered a few soft ribs, and some fasteners came loose on the 1,000KM or so truck ride down (a few have fallen out completely).

I'm starting to chip away at restoring and modernising it.