1963 Century Resorter
by Brandon
(Arkansas)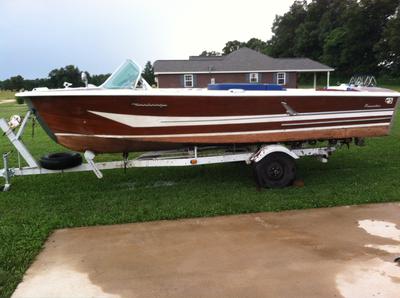 1963 Century Resorter (ALL Wooden-V Drive) w/401 Buick 280hp Gray Marine engine.

I received this boat last week on another deal I made.

I do not know much about these types of boat.

I can tell the upholstery was redone not along ago and in great shape.

All wood appears solid and no issues structurally.

The starter is out (just spins and will not engage the flywheel)

I am able to turn the motor over by hand.

The boat appears to have been used in the last 3-5 years, as the oil, filter and gas all appear good. (I did remove plugs and spray fogging oil in the cylinders prior to turning over by hand)

I am looking to sell as a whole rather than part it out.

All appears in great shape and restoration efforts would appear minimal.

I know there are fanatics out there that would do the right thing with this boat!


Asking $4,000….
Price reduced to $2,500
Call or Text 870-715-5857 anytime for more details.