1963 18' Old Town Lapstrake Runabout
by Jim Mullins
(Crownsville, MD)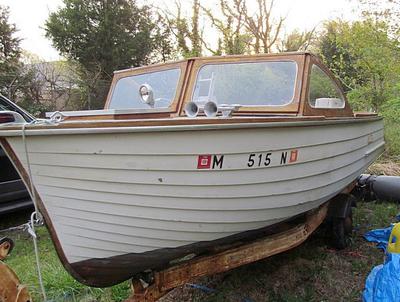 1963 18' Old Town Lapstrake Runabout, 28hp Johnson outboard

I am at the point of painting my hull and need some advice on next steps specifically should I  use a West System epoxy as a primer coat over existing painted surface?

The reason for using the epoxy was to ensure the ring marks from the fasteners disappear.

I originally skimmed these areas with West System epoxy and flaring compound and looks like it did the job.

So far I pressured washed the hull, clean with bleach, sanded and will wipe down with TSP before I paint.





While the original system worked quite well as a one-off post, it didn't allow for updating or posting new photographs etc.
That is why I have introduced the new Your Pages.
This is new 'Community' platform is for 2018.
It is designed to put you in control of your content, make it easier to for you to tell us about your Wooden Boat, upload photos etc. and most of all post updates as and when you wish to.
There is also a forum where you can ask any questions you may have about Wooden Boats and join in the conversations.
So, please come on over and join our community of likeminded Wooden Boaters.