1962 Grady White
by Greg Warsow
(Flat Rock, MI)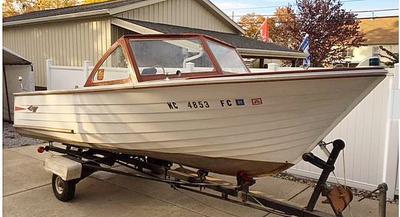 1962 Grady White.
1962 Grady White.

Original 40 HP Johnson Electric Start & Trailer.

Stored in a garage for 25 to 30 years.

Great shape.

No rot.

Currently removing all bright work and preparing mahogany deck, window frame and seat.

Plan to use Epifanes Clear Varnish High Gloss on mahogany and Epifanes Yacht Paint on hull & bottom.


Join in and write your own page! It's easy to do. How? Simply click here to return to Our Wooden Boat Projects...
Want to add more photos?
Photo Uploader

If you are having problems uploading Photos or would like to add more click on this link for the Upload Form.
You can upload as many as you like and there is no need to resize them.