1962 16 foot all wooden Chris Craft Ski Boat weight?
by BJ Lynch
(Durham NC)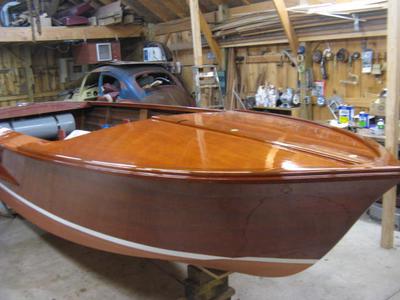 Anyone know how much a 1962 16 foot all wooden chris craft ski boat weighs?
I just purchased a totally refurbished 1962 16foot chris craft ski boat.
I am trying to find the weight so I can have a lift installed at my cottage.
I have looked high and low and there doesn't seem to be any old manuals or information on the weight for this boat.
While the original system worked quite well as a one-off post, it didn't allow for updating or posting new photographs etc.
That is why I have introduced the new Your Pages.
This is new 'Community' platform is for 2018.
It is designed to put you in control of your content, make it easier to for you to tell us about your Wooden Boat, upload photos etc. and most of all post updates as and when you wish to.
There is also a forum where you can ask any questions you may have about Wooden Boats and join in the conversations.
So, please come on over and join our community of likeminded Wooden Boaters.