1961 Krogen 42' motorsailer
by Jon
(34223)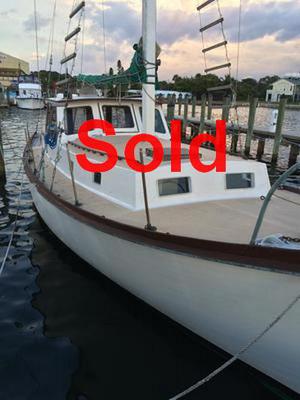 SOLD
Ruggedly built of teak, mahogany and ipol by American Marine in Hong Kong this classic vessel is one-of-a-kind.
She is currently floating and running and lying in Englewood Florida.
She has two new headsails and a serviceable mainsail.
Her 140 hp Deutz diesel engine runs well.
There were reportedly only three of these vessels built and only two remain, designed by James Krogen of the Kadey-Krogen trawler company.
She is a worthy project needing a haulout, some refastening, batteries and lots of paint and varnish.
I had her looking great but a job entailing travel has her looking neglected.
A unique design element is the large sportfish style cockpit.
She has a full galley a/c and a generator.
Please inquire for more info.
Photo Uploader

If you are having problems uploading Photos or would like to add more click on this link for the Upload Form.
You can upload as many as you like and there is no need to resize them.