1961 Krogen 42' motorsailer
by Jon
(34223)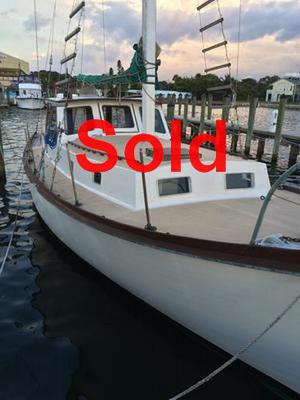 SOLD
Ruggedly built of teak, mahogany and ipol by American Marine in Hong Kong this classic vessel is one-of-a-kind.
She is currently floating and running and lying in Englewood Florida.
She has two new headsails and a serviceable mainsail.
Her 140 hp Deutz diesel engine runs well.
There were reportedly only three of these vessels built and only two remain, designed by James Krogen of the Kadey-Krogen trawler company.
She is a worthy project needing a haulout, some refastening, batteries and lots of paint and varnish.
I had her looking great but a job entailing travel has her looking neglected.
A unique design element is the large sportfish style cockpit.
She has a full galley a/c and a generator.
Please inquire for more info.
While the original system worked quite well as a one-off post, it didn't allow for updating or posting new photographs etc.
That is why I have introduced the new Your Pages.
This is new 'Community' platform is for 2018.
It is designed to put you in control of your content, make it easier to for you to tell us about your Wooden Boat, upload photos etc. and most of all post updates as and when you wish to.
There is also a forum where you can ask any questions you may have about Wooden Boats and join in the conversations.
So, please come on over and join our community of likeminded Wooden Boaters.