1960 Chriscraft Constellation
by Bryant
(Long Beach)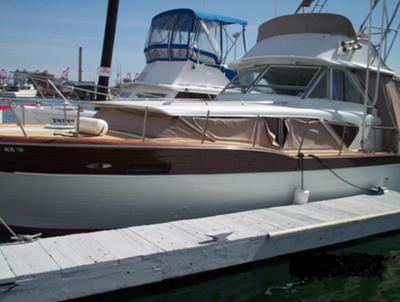 Beautiful just like new.
This is a 1960 32 FT Chris Craft Constellation with flight bridge.

Two new 6 cylinder engine both have less then 75 hours each.

Everything in it is new under the deck:
Septic, Water, Gas tanks, wiring, and added many other expensive extras.

It is truly a beautiful boat it sleeps 6 with one bedroom, dinette table turns into twin size bed plus the sofa turns into bunk beds.

I changed it to a new gas generator, GPS, Depth finder, Music system inside and outside of boat.

It has been wonderful building this boat back to life.


While the original system worked quite well as a one-off post, it didn't allow for updating or posting new photographs etc.
That is why I have introduced the new Your Pages.
This is new 'Community' platform is for 2018.
It is designed to put you in control of your content, make it easier to for you to tell us about your Wooden Boat, upload photos etc. and most of all post updates as and when you wish to.
There is also a forum where you can ask any questions you may have about Wooden Boats and join in the conversations.
So, please come on over and join our community of likeminded Wooden Boaters.