1960 Chris craft sportsman restoration project
by Bob Tuttle
(Santa Cruz,CA)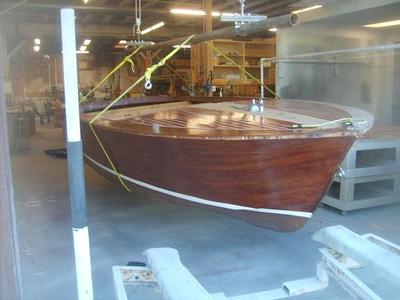 flipin it over...scary!!
Guys, I'm new here, but have been working on this 17' CC sportsman for a year.

It was stored in a storage garage near the California delta and was found on craigslist.

I bought the boat for $1900.00 and started right away... first challenge was to flip it over.

With the help of some friends I managed to get flipped with no problems.

I began ripping the old bottom off to see what I was in store for.

Three cracked frames needed replacing as well as the inner ply and all the bottom planking.

I now have the bottom re-planked and getting ready to prime and paint the bottom.

The boat came from the factory with a 283 chevy V8.

Take a peek at a condensed version of the last year at the shop...