1958 Mahogany Whirlwind Runabout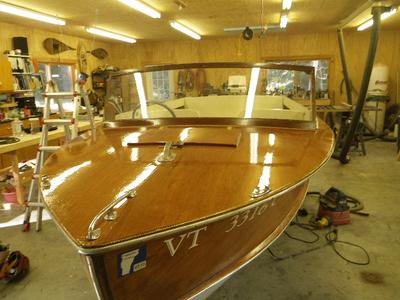 Beautiful 17' mahogany runabout, lovingly restored with a 1964 60 hp Johnson outboard.


This boat is fast, fine, and fun.
It has been restored to fine condition, the Johnson starts and runs great.
Hull is hot molded 7 layer African mahogany, decking is meranti mahogany plywood, BS 1088 marine grade, varnished to a high gloss.
New mahogany windshield frame with new lexan "glass".
Comes with new 6 gallon fuel tank and fuel lines, new battery, engine controls, steering cables, new tachometer and volt meter.
The Whirlwind company built boats in Maryland after WW II when their aircraft manufacturing business fell off.
They were in the boat business until 1962.
The hull is extremely strong, layers of veneer formed over a mold with glue between each layer, then the hull was baked in an oven to set the glue.
A full description of the process can be seen here:
http://www.woodyboater.com/classic-boats/whirlwind-boats/
More information is available here:
http://www.buffingtonassociates.com/whirlwind.html
A short video of the boat on the water is here:
https://www.youtube.com/watch?v=uT_ksYJYpnE&feature=youtu.be
These boats are rare and treasured by their owners.
This boat is a fast and beautiful boat that is tons of fun on the water.
Comes on a tilt trailer equipped with new wheels and tires, bearings, hitch, wiring and lights.
$6500.00 and she is yours!
Located in Hartland, Vermont
tnwilliamson@gmail.com, 802-436-2868
While the original system worked quite well as a one-off post, it didn't allow for updating or posting new photographs etc.
That is why I have introduced the new Your Pages.
This is new 'Community' platform is for 2018.
It is designed to put you in control of your content, make it easier to for you to tell us about your Wooden Boat, upload photos etc. and most of all post updates as and when you wish to.
There is also a forum where you can ask any questions you may have about Wooden Boats and join in the conversations.
So, please come on over and join our community of likeminded Wooden Boaters.