1956 12' Homemade Row Boat
by Bryon Chirpich
(Minnetonka, MN)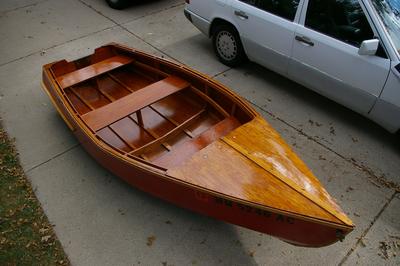 Hi all, I picked this 12' row boat last year.

It came with a 1961 Johnson 5.5hp.

It was in really good shape.

It was very well taken care of.

When I got it It was pretty dingy and really needed a good sanding and new varnishing.

I spent the winter sanding it down, lightly, and applied a few coats of varnish.

Then I lightly sanded the hull which showed signs of resin and fiberglass mesh.

Then painted it.

I'm not sure of which plans it was made from, but it looks close to the 1950's Mustang DIY
plans.

It now cruises Lake Minnetonka in Minnesota.

Thanks for looking, Bryon C.


Join in and write your own page! It's easy to do. How? Simply click here to return to Your Wooden Boat Projects...
Want to add more photos?