1956 12' Homemade Row Boat
by Bryon Chirpich
(Minnetonka, MN)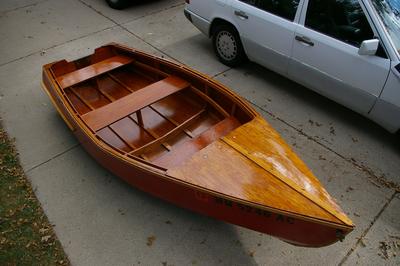 Hi all, I picked this 12' row boat last year.

It came with a 1961 Johnson 5.5hp.

It was in really good shape.

It was very well taken care of.

When I got it It was pretty dingy and really needed a good sanding and new varnishing.

I spent the winter sanding it down, lightly, and applied a few coats of varnish.

Then I lightly sanded the hull which showed signs of resin and fiberglass mesh.

Then painted it.

I'm not sure of which plans it was made from, but it looks close to the 1950's Mustang DIY
plans.

It now cruises Lake Minnetonka in Minnesota.

Thanks for looking, Bryon C.


Return to Your Wooden Boat Projects...
While the original system worked quite well as a one-off post, it didn't allow for updating or posting new photographs etc.
That is why I have introduced the new Your Pages.
This is new 'Community' platform is for 2018.
It is designed to put you in control of your content, make it easier to for you to tell us about your Wooden Boat, upload photos etc. and most of all post updates as and when you wish to.
There is also a forum where you can ask any questions you may have about Wooden Boats and join in the conversations.
So, please come on over and join our community of likeminded Wooden Boaters.