1952 George Stadel Ketch "Lark"
by Craig Murray
(New Durham, NH. USA)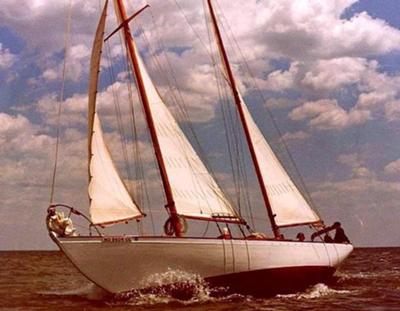 Restoration and repair of "Lark" , a 41' 1952 George Stadel Ketch, built by Herbert Baum in KennyBunkport Maine.

Lark is oak framed with mahogany planking.

She has two sitka spruce masts, nine sails.

She also has a 40 hp Grey Marine engine.

Lark survived being hove-to off the coast of New England during the Hurricane "Jane", I believe in 1964.

I do have the full set of Blue prints of "Lark".

"Lark" was sailed between Maine and Maryland.

My wife and I bought/rescued Lark in 2003, from certain demise of a chain saw.

Shortly after, my wife was diagnosed with cancer.

We put the boat project on hold.

I did some work on her, but had to put the boat last on the list.

My wife lost her battle with cancer May of 2011.

She made me promise to continue with the boat project.

So far the I have removed the interior of the boat.

I have repaired some of the frames.

I saved the interior.

There are several planks to replace still.

The fore foot of the stem at the water line has some rot which is in the repair list.

The ballast is Iron, I would like to change that to lead. Yikes!

"Lark" may also require replacement of the keel timbers as they have dried out considerably.

The masts both have dried out and both have some long, wide checks in them.

Not sure how or what to do there yet.

The rigging is in fairly good shape.

All of the systems need up dating.

I want to bring the tanks down lower in the bilge.

The deck house coaming has been rebuilt and the deck house is removed for repair.

The engine is to be replaced with a rebuilt diesel.

The sails are a mixed bag, but salvageable.