1951 Chris Craft 22' Express Cruiser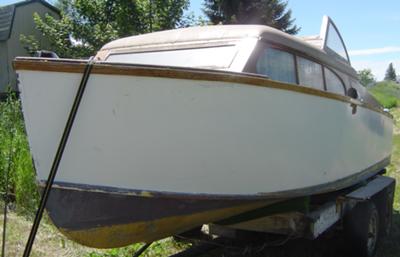 Rare Chris Craft boat in good shape, needing minor repairs and partial restoration.

Wood in excellent condition except for a few pieces that need to be replaced.

Top half of boat is varnished mahogany wood, hull side color is white.

This is one of 498 built.

Does run, but does not have original motor.

Original motor was Hercules 6, but has flat-head V-8 for power plant.

Can remove if not wanted.

Has Burkley transmission and brass prop that is still intact.

Must sacrifice $4500 obo, $3500 firm without motor.

Comes with trailer also.

Once restored, boat is worth up to $40,000.

Serious inquiries only, must sell ASAP.

Call Brad 509-362-3752 or 509-569-3988.


While the original system worked quite well as a one-off post, it didn't allow for updating or posting new photographs etc.
That is why I have introduced the new Your Pages.
This is new 'Community' platform is for 2018.
It is designed to put you in control of your content, make it easier to for you to tell us about your Wooden Boat, upload photos etc. and most of all post updates as and when you wish to.
There is also a forum where you can ask any questions you may have about Wooden Boats and join in the conversations.
So, please come on over and join our community of likeminded Wooden Boaters.