1919 Mathis-Trumpy

(Satsuma FL.)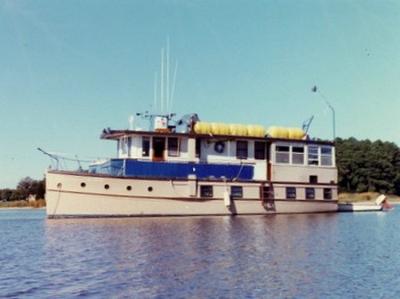 The Grand Lady
"I am asking you to please help me.

I am searching for a good home for a Historic 1919 Mathis-Trumpy, The Grand Lady (originally Riette II).

As you may know she is one of the oldest Trumpy yachts still alive.

She in critical need of restoration/reconstruction and currently sits in the water in a plastic bladder in Satsuma FL.https://www.diy-wood-boat.com/1919-mathistrumpy.html

This boat is FREE to a good home.

If you can help me out in ANY way (brainstorming, referring me to people/resources/sites, etc) I would love to hear from you.

This was my father's boat and he just passed away.

I have only two and a half months to find the boat a home before her demise and I have limited contacts and knowledge because I am not familiar with boats.

We would like her to find a good new home, and an owner who can restore her to perfection.

See Katrina's comment below for contact details.


While the original system worked quite well as a one-off post, it didn't allow for updating or posting new photographs etc.
That is why I have introduced the new Your Pages.
This is new 'Community' platform is for 2018.
It is designed to put you in control of your content, make it easier to for you to tell us about your Wooden Boat, upload photos etc. and most of all post updates as and when you wish to.
There is also a forum where you can ask any questions you may have about Wooden Boats and join in the conversations.
So, please come on over and join our community of likeminded Wooden Boaters.