1919 Mathis-Trumpy

(Satsuma FL.)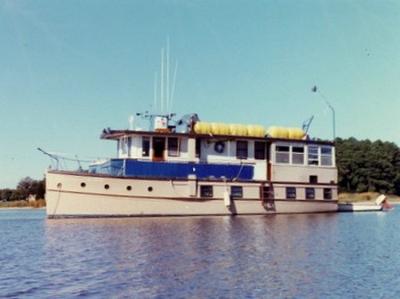 The Grand Lady
"I am asking you to please help me.

I am searching for a good home for a Historic 1919 Mathis-Trumpy, The Grand Lady (originally Riette II).

As you may know she is one of the oldest Trumpy yachts still alive.

She in critical need of restoration/reconstruction and currently sits in the water in a plastic bladder in Satsuma FL.https://www.diy-wood-boat.com/1919-mathistrumpy.html

This boat is FREE to a good home.

If you can help me out in ANY way (brainstorming, referring me to people/resources/sites, etc) I would love to hear from you.

This was my father's boat and he just passed away.

I have only two and a half months to find the boat a home before her demise and I have limited contacts and knowledge because I am not familiar with boats.

We would like her to find a good new home, and an owner who can restore her to perfection.

See Katrina's comment below for contact details.