1903 25 ft x fishing boat
by Ashley
(London)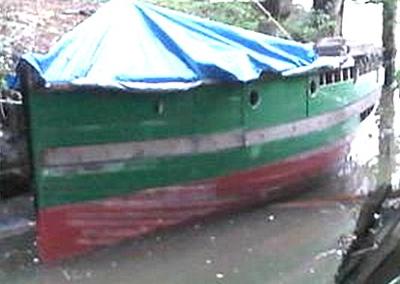 SOLD
1903 25 ft ex fishing boat converted in the 60's to a saling boat.
This boat has teak planking to the water line and above is pich pine on sawn oak frames.
The boat is a project.
It has a nice shape and lines.
I have no time to do it myself.
It was built by kitto in cornwall in 1903.
She is a lovey looking boat and is afloat in London.
Return to The Boats and Bits Exchange.
Want to add more photos?
Recent Articles
Jun 09, 19 03:31 AM

Vintage and retro wood-hull boats sat elegantly in Newport Harbor's calm water Saturday for the sixth annual Newport Beach Wooden Boat Festival at Balboa Yacht Club.

See more by Susan Hoffman at the L…

Jun 08, 19 06:39 PM

I just picked up this little laser sailboat. I had no idea it was solid wood when I saw it on Offer Up. I was ecstatic when I realized this. It's

Jun 08, 19 06:23 PM

Hello Kate, Congratulations on your serendipitous discovery of the Laser Woody.