1903 25 ft x fishing boat
by Ashley
(London)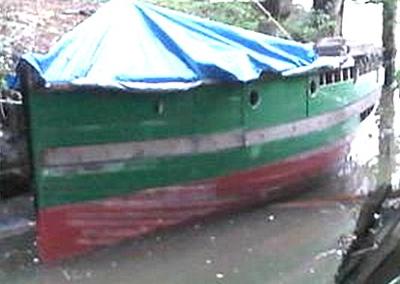 SOLD
1903 25 ft ex fishing boat converted in the 60's to a saling boat.
This boat has teak planking to the water line and above is pich pine on sawn oak frames.
The boat is a project.
It has a nice shape and lines.
I have no time to do it myself.
It was built by kitto in cornwall in 1903.
She is a lovey looking boat and is afloat in London.
Return to The Boats and Bits Exchange.
While the original system worked quite well as a one-off post, it didn't allow for updating or posting new photographs etc.
That is why I have introduced the new Your Pages.
This is new 'Community' platform is for 2018.
It is designed to put you in control of your content, make it easier to for you to tell us about your Wooden Boat, upload photos etc. and most of all post updates as and when you wish to.
There is also a forum where you can ask any questions you may have about Wooden Boats and join in the conversations.
So, please come on over and join our community of likeminded Wooden Boaters.