12ft Clinker Punt
by Stephen
(Ireland)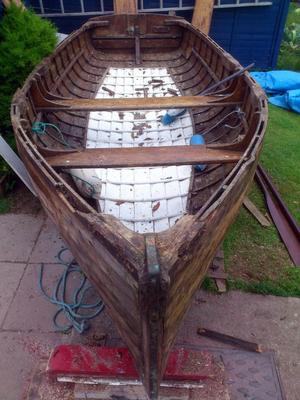 For my first wooden boat project, well first boat actually, I picked up a very distressed old 12ft clinker rowing boat in August 2011 off an old guy in the local pub (much to the sniggers of some of my neighbours).

I'm told it's a very old style of boat, not many like it around my way.

After scraping her down last autumn, I got some excellent professional help over the winter to replace the bow stem, knees, ribs, lower transom, gunwales and some planks that were all badly rotted.

Myself and my brother began varnishing and painting in the spring and got her finished and back in the water in mid June this year.

It was an enjoyable project from start to finish and I'd like to thank DIY Wood Boat for being an invaluable source of information over the last year.


While the original system worked quite well as a one-off post, it didn't allow for updating or posting new photographs etc.
That is why I have introduced the new Your Pages.
This is new 'Community' platform is for 2018.
It is designed to put you in control of your content, make it easier to for you to tell us about your Wooden Boat, upload photos etc. and most of all post updates as and when you wish to.
There is also a forum where you can ask any questions you may have about Wooden Boats and join in the conversations.
So, please come on over and join our community of likeminded Wooden Boaters.