Star Class 3909 built in 1958
by Milton Thrasher
(Sarasota, FL USA)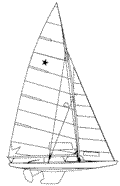 Star Class profile and sailplan
I built the Star Class 3909 in western red cedar from the ISCYRA plans at 22'8".

I fiberglassed it before it every hielt the water.

It was a fairly successful racing boat even though I used the keel from Star Class 375 which was not as smooth as the newer keels.

It was very fast up wind but slow down wind even though I made it as flat as the tolerances would allow.

I later owned the 1936 International One-Design Class 33' 5" wooden racing sloop and refurbished her extensively.




If you wish to add more photos (or videos) to your post or if you have any problems loading photos use the link below (there is no need to resize or adjust your photos).
All photographs posted here go into the same central receiving account.
I do occasionally receive stray photos.
So, before selecting your photo please use the 'Message Box' to indicate to which post the photos belong.
Click Here to securely send your photos,