Viscount star
by Jo & Sandra
(Sugar bay nsw australia)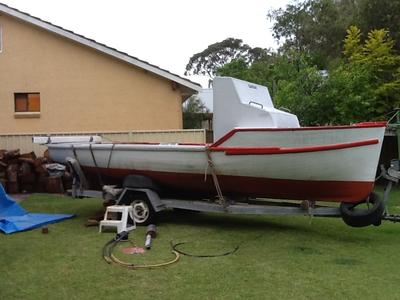 Purchased on ebay 31.12.12 $600 nsw toronto
Ex commercial swansea fishing launch 1948?
Built by James lewis boyd & son

We built cabin & cleaned up hull with scape & sand back 2 timber

We took 3 months to complete with rain & very hot days plus a trip 2 hospital

We used bondcrete 3 coats & bullyseye 123 primer 2 coats , dulux aqua enamel 2 coats & kiwi grip

Do u like?

At mechanics installing new yanmar 20hp diesel.




If you wish to add more photos (or videos) to your post or if you have any problems loading photos use the link below (there is no need to resize or adjust your photos).
All photographs posted here go into the same central receiving account.
I do occasionally receive stray photos.
So, before selecting your photo please use the 'Message Box' to indicate to which post the photos belong.
Click Here to securely send your photos,