Joining Plywood Sheets and Planks
by John Sheen
(Isle of Wight, UK)
Joining 4 and 6 mm plywood sheets by either the scarf method or the epoxy/glass butt joint is not as difficult as it might at first appear.

Personally I favour the butt joint for the amateur builder because it is the easiest and quickest.

It is also very strong and requires minimum skill.

Whilst the scarf joint is traditional in boatbuilding, even before glues were used (paint and clenched or turned nails) the modern materials allow simpler methods to be used and a stronger joint created.

Lapstrake is eminently suitable for the use of epoxy/glass butt joint because the finished planks are quite narrow and the overlap of the planks at the lands are consequently close together.

Not only does this give a thickness which is at least twice the thickness of the plank, the filled lands both inside and especially outside, have the effect of forming continuous longitudinal stringers from stem to stern.

The glass tape becomes almost invisible when saturated with the epoxy resin and a bright finish is possible with care in faring the tapes.

The joint can be made with the full and half sheets or with individual planks which have been previously cut.

Thought should be given to the building space available to you.

Plywood Butt Joint.
Full Sheets or Planks
The joint is made as shown in the sketch.

The base surface must be clean and flat.
Lay the plastic on the base and position the plywood with epoxy in the butting edges.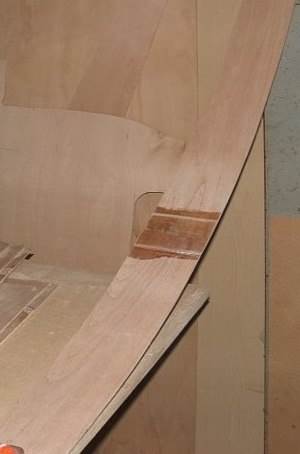 The plank will
retain a fare curve and be strong
Cramp the plywood to the base making sure there is no step between the ply sheets.
Wet out two 75mm fibreglass tapes, overlapped as shown.
Squeegee excess resin out.
Cover with plastic or Mylar wider than the tapes.
Roll with rubber or flexible tool.
Cramp or weigh down with a suitable flat board, and allow 24hr to cure.
Remove cramp board and plastic.
Sand the surface flush, do not remove glass, only fair the edges.
Cramp battens to the edges and turn the sheet over.
Apply one tape to other side.
Repeat the operation with another sheet or plank.
If you wish to add more photos (or videos) to your post or if you have any problems loading photos use the link below (there is no need to resize or adjust your photos).
All photographs posted here go into the same central receiving account.
I do occasionally receive stray photos.
So, before selecting your photo please use the 'Message Box' to indicate to which post the photos belong.
Click Here to securely send your photos,