How do I find the vlaue of a 1967 14ft motor cruiser?
by Rosemarie
(Ballston Lake, NY )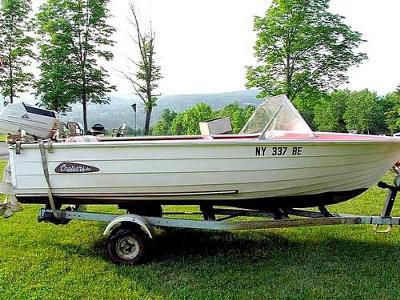 I have a 1967 14 ft outboard motor cruiser that was my parents - the original owners.

I intend to sell.

It has always been stored inside and drawn to the lakes in upstate New York and New Jersey that we boated.

It has not been in the water in about 30 years. ***C2Add.shtml***

I have an emotional attachment and have thought of keeping it - but cost and time is an issue - having two small children involved in many activities.

I would want to see it go to a lover of wooden boats..

I have included some pictures.

Thank you




***C2Add2.shtml***
If you wish to add more photos (or videos) to your post or if you have any problems loading photos use the link below (there is no need to resize or adjust your photos).
All photographs posted here go into the same central receiving account.
I do occasionally receive stray photos.
So, before selecting your photo please use the 'Message Box' to indicate to which post the photos belong.
Click Here to securely send your photos,