Building a Transom Mount for a 90-115 hp motor
by R-E-D-E-2
(Michigan)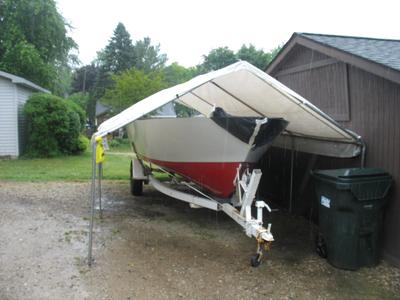 I am in the process of building a Ken Hankingson 20'Vee Gull.

I have completed the hull construction but am looking to make some modification.

The plans were built to use an inboard with outdrive.
***C2Add.shtml***
I am looking to free up some additional space on the deck and would like to build a floatable transom mount similar to any of the following. http://www.armstrongnautical.com/Brackets.htm
http://www.stainlessmarine.com/home.html
http://www.gilmarine.com/products/gbracket/brackets.html
http://www.hermco.net/seamark_bracket.htm
http://www.seamount-mattson.com/
http://www.dadmarine.com/index00.htm

The expense of these is very high and I am looking to reduce this so I can purchase a nice outboard.

Any help or information would be appreciated.

I will try to include some pictures on the next post, I have them on another computer.

You can find all the information on the boat on the Glen L web site www.glen-l.com/ under Ken Hankingson.




If you wish to add more photos (or videos) to your post or if you have any problems loading photos use the link below (there is no need to resize or adjust your photos).
All photographs posted here go into the same central receiving account.
I do occasionally receive stray photos.
So, before selecting your photo please use the 'Message Box' to indicate to which post the photos belong.
Click Here to securely send your photos,