A Skerry sailboat and an Apple Pie pram.
by Christine DeMerchant
(Toronto, Ontario, Canada)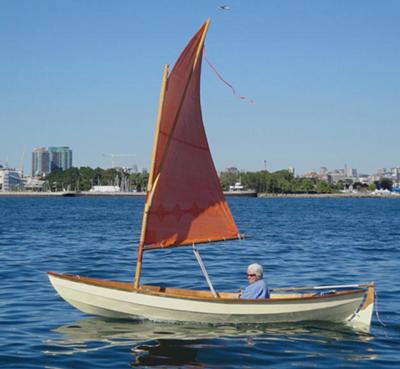 Sailing in my Skerry
I have built 2 stitch and glue boats.
My first boat ever was a Chesapeake Light Craft Skerry.
It is still my first love.
I sail her in Lake Ontario near Toronto, Canada.
I documented the build and my experiments in sailmaking here:
http://www.christinedemerchant.com/skerry.html
Last summer I built a small pram to use as a tender for my big boat. (Once bitten by the boat bug its hard to stop!)
My Apple Pie dinghy is a great success.
Not only is it very cute but works exceptionally well.
http://www.christinedemerchant.com/applepielaunch.html
Building a boat or two is a fabulous way of building confidence and I think it is a life changing experience.
If you wish to add more photos (or videos) to your post or if you have any problems loading photos use the link below (there is no need to resize or adjust your photos).
All photographs posted here go into the same central receiving account.
I do occasionally receive stray photos.
So, before selecting your photo please use the 'Message Box' to indicate to which post the photos belong.
Click Here to securely send your photos,