Carvel Planking, the Basic Structure.
The efficacy of carvel planking is evident in the number of sturdy, work boats built using this method.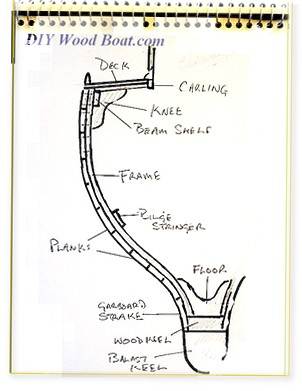 There are many more old boats still afloat that are planked in this way than those built using any other construction method.


This system of planking is both tough and flexible.


And it is the easiest to repair.


Many leaks can be stopped simply by caulking.
Boat Books on-line
Planks are nailed or screwed to the frames then the seams caulked.

Then a few coats of paint are all that is needed to make them watertight.

Whole or part planks can be replaced regardless of the weather.

There is no need to worry too much about humidity or temperature, except for its effect on the person doing the job.
---
Back to
Top of Page

Home
Index
Your Comments
Please share your thoughts or comments, your feedback is more than welcome, it is important.
Photos
Should you have a problem uploading photos you can use the link below to securely send them to me.
Click Here to securely send your photos,
Before selecting your photo please use the 'Description Box' to indicate to which post the photos belong.
Previous Comments