19xx? Yellow Jacket Boat 14'
by RC
(Kansas City, MO)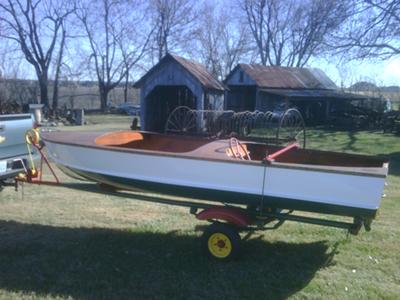 I'm in the process of restoring this boat but am in dire need of finding someone who has a listing of the hull numbers and the year associated with them.

I'm guessing this boat is around a 1952.

Can anyone please help identify it if I sent you the numbers?

My email address is Y141972@aol.com.

Thanks!

I'll TRY to post a couple of pictures OF what I've gotten done so far.

I redid the trailer and the hull this summer.....still need to do the deck.

For fun I've attached a picture of the Tow Vehicle as well.






If you wish to add more photos (or videos) to your post or if you have any problems loading photos use the link below (there is no need to resize or adjust your photos).
All photographs posted here go into the same central receiving account.
I do occasionally receive stray photos.
So, before selecting your photo please use the 'Message Box' to indicate to which post the photos belong.
Click Here to securely send your photos,