14' RKL Little Rangley
by David
(Eastern Shore, VA)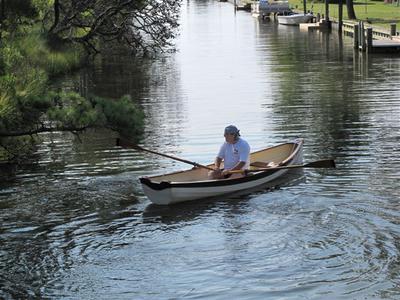 Sold
RKL Boatworks 14' rowboat fiberglass model. origanal owner bought it in 1989 - I am the 2nd owner.
It is in excellent condition and has been kept indoors for last couple of years.
It is on a 1990 Loadrite galvanized trailer.
Also has a removable sliding sculling seat with 2 wooden sculls.
Also 2 sets of Shaw and Tenney 6.5" curved oars -- one set brand new.
As an option I have a 2.5HP Mercury outboard that I can sell with it.
If you wish to add more photos (or videos) to your post or if you have any problems loading photos use the link below (there is no need to resize or adjust your photos).
All photographs posted here go into the same central receiving account.
I do occasionally receive stray photos.
So, before selecting your photo please use the 'Message Box' to indicate to which post the photos belong.
Click Here to securely send your photos,